Welcome to my Page!

Things about me: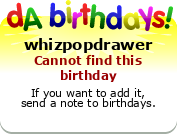 -So, I like to play Pokemon Pro Revolution and Undertale

- I read Pokemon Manga (Adventures) and Detective Conan.

- My sign is Virgo.

- I am Christian. If you offend me, I will block your comment.

Interesting facts?

- um... heart shaped nose

CHECK OUT THIS AWESOME PEOPLE lskdfjlskjfljk











Friends i know irl








Bffs:





Thanks for coming to my deviantart page!